Sponsored Link
スポンサーサイト
'Kinnikuman' makes comeback with new series
Having had its heyday in the 1980s, the "Kinnikuman" wrestling manga series by manga duo Yudetamago is making a comeback, with a new series released on the official website of Shukan Playboy weekly magazine.
The all-new web-based "Kinnikuman" (literally "Muscleman") series is directly linked to the final episode of the original manga series, which ended in 1987.
Kinnikuman - 1st OP - Kinnikuman Go Fight! [video vers.]
A new episode will replace the previous one every Monday on the website, Shupure News, which is available for free.
The episodes will later be compiled into comic books to be sold at bookstores.
The original series ran on Shueisha Inc.'s Shonen Jump weekly manga magazine from 1979. It became wildly popular among boys, spawning animated TV series and feature film adaptations.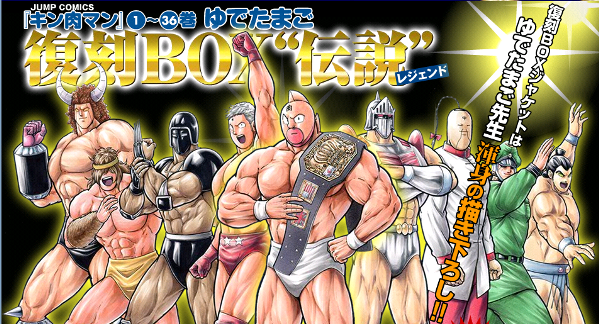 "Kinnikuman Nisei" (Muscleman II), which follows the second generation of the original characters, started in 1997 in Playboy magazine and on its website. The manga was also turned into an animated series, and ended in October this year.
The new series goes back to the days of the first series, with the first episode picking up where the last episode of the original left off.
By AS on Dec 19, 2011
スポンサーサイト
tag : Anime_News