Sponsored Link
スポンサーサイト
King of anime songs releases commemorative DVD set

(Ichiro Mizuki)
Popular vocalist Ichiro Mizuki released Dec. 7 a deluxe two-disc DVD set to celebrate the 40th anniversary of his debut as an anime song singer.
"Mizuki Ichiro TV Shudaika Daizenshu" (Ichiro Mizuki: the complete collection of TV theme songs) contains 104 songs from animated TV series and "tokusatsu" live-action superhero shows.
The exclusive set not only offers a retrospective of his major works, but also provides a historical perspective of songs from anime and tokusatsu shows over the past 40 years.

(Genshi Shonen Ryu)
Mizuki made his professional debut with the record label Nippon Columbia in 1968.
Mizuki started singing for animated shows and live-action superhero series after one of his songs was used as the theme song for "Genshi Shonen Ryu" (Ryu, The Cave Boy) animated series in 1971.
Shows he was involved with include "Mazinger Z," "Space Pirate Captain Herlock," "Chojin Barom One," "Kamen Rider X," "Ganbare!! Robocon" and "Kaiketsu Zubat," and many others.

(Space Pirate Captain Herlock)
With more than 1,000 songs recorded, Mizuki is referred to by fans as "Aniki" (big brother) and is often hailed as the king of the anime song music genre.
In addition to his songs, the DVD set contains video footage of the opening and ending sequences of the shows with captions and sound effects to present them in their original formats as aired on television.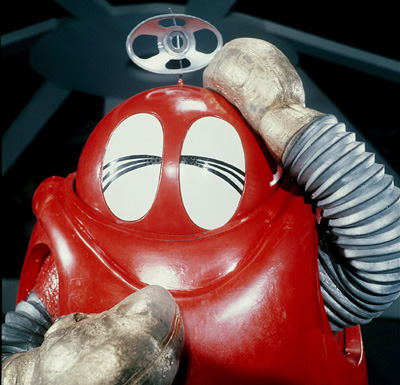 (Ganbare!! Robocon)
With a total running time of 128 minutes, the DVD set is priced at 9,240 yen ($118), including tax. It also includes a 40-page booklet.
Mizuki performed on Dec. 11 to celebrate his 40-year singing career.
For more information about the DVD set, visit (http://columbia.jp/mizuki40/).
By AS on Jan 6, 2012
スポンサーサイト
tag : Anime_News