Sponsored Link
スポンサーサイト
Catherine (キャサリン) / Game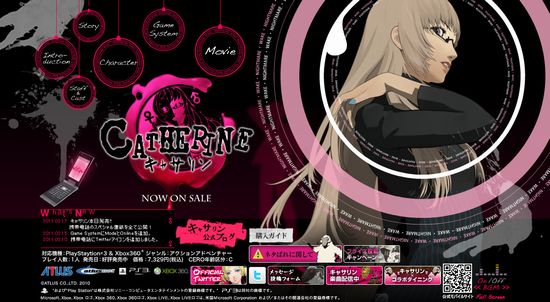 Catherine (キャサリン) is a platform game in which players control a man named Vincent who begins having strange nightmares after his girlfriend, Katherine, begins to talk about marriage and commitment. This matter becomes more complicated for him when he meets a gorgeous girl named Catherine and the nightmares get more and more intense. The main story mode, Golden Playhouse, follows the story between Daytime and Nightmare scenarios.
PS3/Xbox360『キャサリン - CATHERINE -』 PV第2弾
During the daytime, Vincent will converse with his friends as well as try to handle his relationships with Catherine and Katherine. Most of this time takes place in the Stray Sheep bar where Vincent can save and send text messages from his mobile phone, talk to customers, order drinks, play a minigame titled Rapunzel or listen to a jukebox containing tracks from other Atlus games such as the Persona series.
Persona 3 Portable P3P Vincent Cameo ( Catherine ps3 xbox 360 )
The main gameplay takes place in the Nightmare stages. In a nightmarish dreamworld inhabited by other men, who are represented as sheep, Vincent must climb up giant staircases that are slowly collapsing underneath him and safely reach the top. To accomplish this, Vincent must push, pull and climb blocks as quickly as possible while avoiding various traps such as spikes and ice. Climbing up steps in quick succession increases a score multiplier, and at the end of the level, players are given an award based on their score. Each stage is split up into numerous areas, culminating in a boss stage in which a nightmarish creature also attempts to kill Vincent.
Items found throughout the levels include pillows which give extra lives, block items that can be placed anywhere in the level and lightning that can destroy sheep which block Vincent's path. There are also certain attributes Vincent can get depending on what he drinks during the day. Vincent will die if he falls off the bottom of the level, gets caught by a trap or is killed by a boss, with the game ending if Vincent runs out of retry pillows. In between action stages, Vincent can interact with the other sheep, save his game, learn techniques or spend coins on special items. When playing on easy and normal difficulty, players can push the Select/Back button to correct a single block move.
By AS on Jan 14, 2011
スポンサーサイト
tag : Game