Sponsored Link
スポンサーサイト
Anime & Manga / 'Thermae Romae' wins spot in popular anime TV program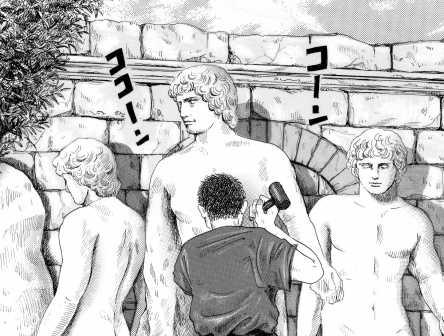 Mari Yamazaki's manga "Thermae Romae" will be adapted into a three-episode animated TV miniseries on Fuji Television Network Inc.'s "noitaminA" midnight animation slot, which starts later this month.
The manga is a popular series currently running in Enterbrain Inc.'s Monthly Comic Beam magazine.
"Thermae Romae" revolves around a bath architect in ancient Rome who is having a hard time coming up with ideas. Out of the blue, he gets caught up in a time warp and finds himself in a bathhouse in modern Japan. When he returns to his own time and place, he applies his newfound ideas and revolutionizes Roman baths.
Thermae Romae (Ending) - Thermae Roman Subbed 720p
The charm of the manga is that it offers deep knowledge on public bathhouses.
The manga won Yamazaki the Short Story Prize of the 14th Tezuka Osamu Cultural Prize in 2010. It also won the 2010 Cartoon Grand Prize, whose winner is chosen by bookstore staffers.
In addition, a Fuji Television-produced live-action feature film adaptation is slated to hit cinemas on April 28.
Directed by Hideki Takeuchi, who directed a live-action adaptation of "Nodame Cantabile," the film version features Hiroshi Abe, Aya Ueto and many other stars.
The production company and the names of staff and voice cast members have yet to be revealed. The official website will be up soon.
It will be the first time a miniseries has aired in the popular "noitaminA" slot.
Previously, animated series aired in the slot ran up to 12 episodes per season or up to 24 episodes over two seasons.
"Thermae Romae" will share the same season with "Black Rock Shooter," a new eight-episode series slated to premiere in the slot in February.
The "Thermae Romae" series will air at 45 minutes past midnight every Thursday night from Jan. 12.
Visit the teaser website at (http://www.thermae-anime.jp/).
By AS on Jan 22, 2012
スポンサーサイト
tag : Anime_News