Sponsored Link
スポンサーサイト
TV Anime / Cowboy Bebop (カウボーイビバップ)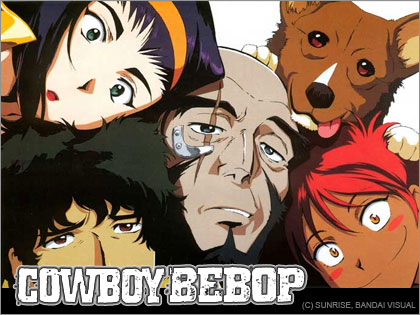 Cowboy Bebop (カウボーイビバップ) is a critically acclaimed and award-winning 1998 Japanese anime series written by Keiko Nobumoto, directed by Shinichiro Watanabe, and produced by Sunrise. Its 26 episodes ("sessions") comprise a complete storyline: set in 2071, the series follows the adventures, misadventures and tragedies of five bounty hunters, or "cowboys", travelling on their spaceship, the Bebop. The series explores several philosophical concepts including existentialism, loneliness, and existential ennui.
Tank! Cowboy Bebop (Full version)
In 2022, the explosion of an experimental hyperspace gateway severely damaged the Moon, resulting in a debris ring and meteor bombardments that eradicated a large portion of the population. As a result, many survivors abandoned the barely habitable Earth to colonize the inner planets, the asteroid belt and the moons of Jupiter.
Spike Spiegel, a bounty Hunter with a dark past, lives on bounty to bounty, barely making it each time, or not making it at all. His partners Jet Black, Faye Valentine, Ed and Ein the dog all help him in his adventures from planet to planet.
By AS on Feb 4, 2012
スポンサーサイト
tag : Anime