Sponsored Link
スポンサーサイト
TV Anime / Death Note (デスノート)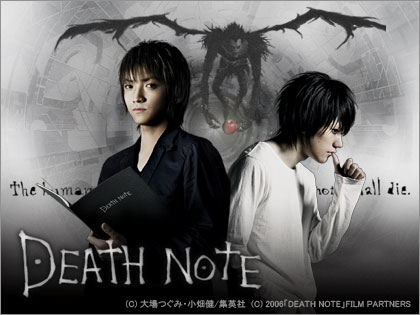 Death Note (デスノート) is a manga created by writer Tsugumi Ohba and manga artist Takeshi Obata. The main character is Light Yagami, a high school student who discovers a supernatural notebook, the "Death Note", dropped on Earth by a god of death, or a shinigami, named Ryuk. The Death Note grants its user the ability to kill anyone whose name and face they know, by writing the name in the notebook while picturing their face. The series centers around Light's attempt to create and rule a world "cleansed of evil" as "God" using the notebook, and the efforts of a detective known as L to stop him.
Spongebob - Deathnote
Yagami Light is an ace student with great prospects, who's bored out of his mind. One day he finds the "Death Note": a notebook from the realm of the Death Gods, with the power to kill people in any way he desires.
With the Death Note in hand, Light decides to create his perfect world, without crime or criminals. However, when criminals start dropping dead one by one, the authorites send the legendary detective L to track down the killer, and a battle of wits, deception and logic ensues...
By AS on Feb 5, 2012
スポンサーサイト
tag : TV_Anime