Sponsored Link
スポンサーサイト
Anime & Manga Japan / Kyoto museum is a paradise for manga mavens

("The Wall of Manga" of the Kyoto International Manga Museum)
"The Wall of Manga" of the Kyoto International Manga Museum in Nakagyo Ward. Comic books displayed on the lower shelves with their spines out are available for reading. The comics on the upper shelves are for display only.
Visit the English Site of the Museum. Museum also have a site of French, Chinese and Korean.
http://www.kyotomm.jp/english/
The main focus of the Manga Museum's collection is a body of approximately 50,000 publications from the 1970s to the present day (2005) which are arranged in an open access library system that spans 200 meters throughout the building called the "Wall of Manga".
How to Search for Manga on the Wall of Manga

The books on the Wall of Manga have been divided into shonen (boys) manga on the 1st floor, shojo (girls) manga on the 2nd and seinen (young adults) manga on the 3rd floor. They are further categorized alphabetically by author's name according to the Japanese syllabary, but if you are searching for a specific book please feel free to use the library database touch screen panels located throughout the museum.
"Wall of Manga" Feature Book Shelves
A model of the phoenix from Osamu Tezuka's masterpiece "Hi no Tori" (Bird of fire) greets visitors to the museum.
An old school building houses the Kyoto International Manga Museum (Kyoto prefectural government)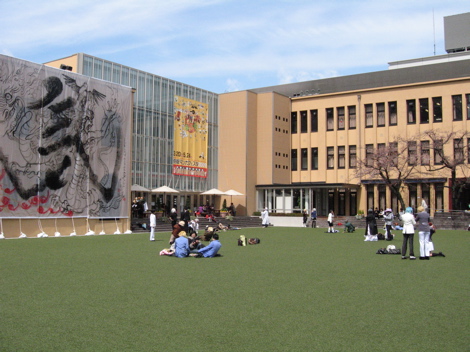 View Larger Map
By AS on Mar 8, 2012
スポンサーサイト
tag : Anime_News