Sponsored Link
スポンサーサイト
Anime & Manga Japan / Tottori to host manga summit in November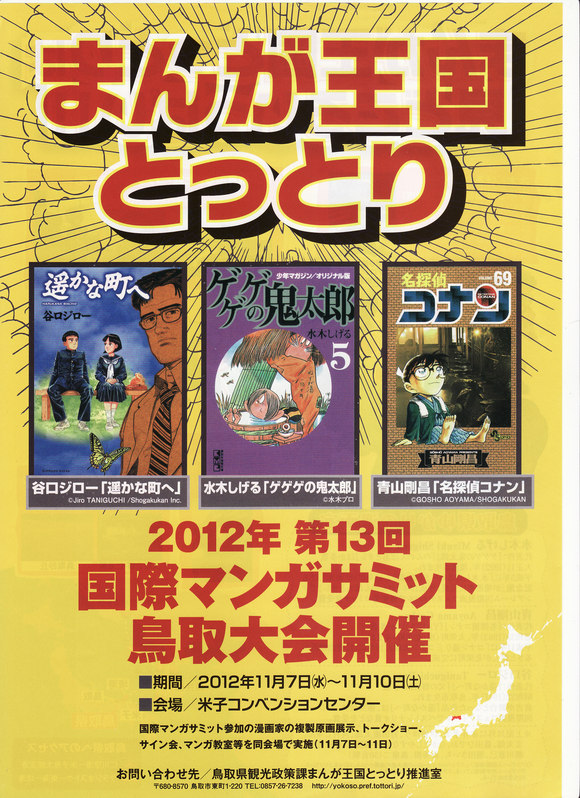 (Anime and manga industry officials have vowed to support the 13th International Manga Summit
to be held in Yonago, Tottori Prefecture, in November. Second from right is Tottori Prefecture
Governor Shinji Hirai while at right is Yonago Mayor Yasuo Nozaka.)
Tottori prefectural government officials said they will host the 13th International Manga Summit on Nov. 7-11 at the Yonago Convention Center in Yonago city.

(Mizuki Road)
As you may know, famous Manga Author Shigeru Mizuki.
Mizuki was born in the coastal town of Sakaiminato, Tottori Prefectuew and was originally named Shigeru Mura (武良 茂 Mura Shigeru), the second of three sons. Described as a drifting, curious child, his earliest pursuits included copious amounts of drawing and hearing ghost stories from a local woman he nicknamed "Nononba".

(Mizuki Shigeru Museum will be renewaled and open on Mar 8, 2012, which is located at Sakai-minato city.)


View Larger Map

By AS on Feb 18, 2012
スポンサーサイト
tag : Anime_News