Sponsored Link
スポンサーサイト
Anime & Manga Japan / Yokohama city to promote 'Precure' movie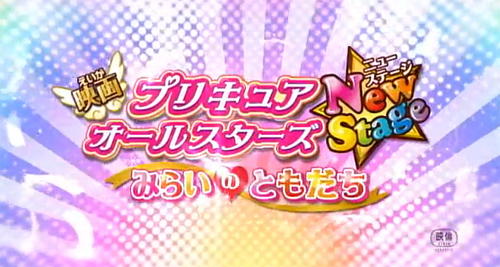 The Yokohama city government will launch a joint promotional campaign for "Precure All Stars New Stage: Mirai no Tomodachi" (Precure All Stars New Stage: Friends of the Future), the latest movie adaptation of the "Precure" animated TV series.
PRETTY CURE ALL-STARS NEW STAGE: Mirai no Tomodachi
Pretty Cure All Stars New Stage: Mirai No Tomodachiis the sequel to the third Pretty Cure All Stars movie, set to be released in Japanese theaters on March 17, 2012. This film is the fourth of the Pretty Cure All Starscrossover movie series featuring all of the current Pretty Cure characters. Starring all Cures from all series, including those that will be introduced in Smile Pretty Cure!.
The story will see the Pretty Cures unite once again to fight against Fusion, who has returned to take revenge on the world. Like Pretty Cure All Stars DX 2: Kibou no Hikari - Rainbow Jewel o Mamore!, this movie doesn't appear to mark any celebrations or anniversaries.
By AS on Mar 31, 2012
スポンサーサイト
tag : Anime_Manga