Sponsored Link
スポンサーサイト
Anime & Manga Japan / Neo Tokyo (film)
NEOTOKYO Official Trailer
Neo Tokyo (迷宮物語 Meikyu Monogatari, literally "Labyrinth Tales"), also titled Manie-Manie on its title card, is a 1987 anime science fiction anthology film produced by Project Team Argos and Madhouse. Conceived and produced by Madhouse founders Masao Maruyama and Rintaro, it adapts short stories by Taku Mayumura featured in the 1986 collection of the same Japanese title and is executive produced by publisher Haruki Kadokawa.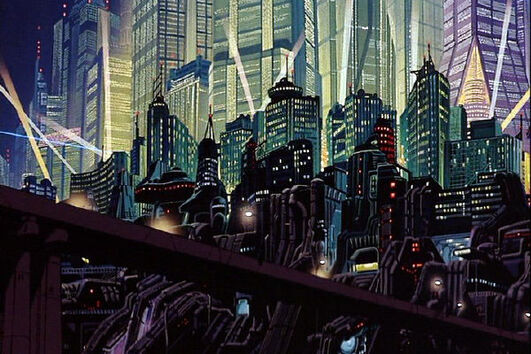 (Neo-Tokyo at night)
The short follows Sachi (Hideko Yoshida/Cheryl Chase), a girl locked in a game of hide-and-seek with her cat Cicerone. Her search leads her to an old longcase clock which doubles as a doorway to a labyrinth world.
The world is filled with supernatural oddities and characters, such as cardboard working class citizens, an invisible dog, a skeleton-led train and a weird circus. Eventually, Sachi and Cicerone arrive at a circus tent where a viewing screen is displayed, leading to the following segments.
By AS on Apr 5, 2012
スポンサーサイト
tag : Anime_Manga