Sponsored Link
スポンサーサイト
Anime & Manga Japan / Kannagi: Crazy Shrine Maidens
KANNAGI Trailer
Kannagi: Crazy Shrine Maidens (かんなぎ lit. Shrine maiden), is a Japanese manga series written and illustrated by Eri Takenashi. The manga began serialization in the January 2006 issue of Ichijinsha's shōnen manga magazine Comic Rex. Six tankobon volumes have been released in Japan. A 13-episode anime adaptation produced by A-1 Pictures aired between October and December 2008 in Japan. An original video animation (OVA) episode was released in May 2009. Bandai Entertainment licensed the manga and anime series, including the OVA.
Nagi is a goddess who wakes up after years of slumber with Jin's unexpected help. Her mission as a deity is to cleanse the impurities of the world, but as her powers have weakened over time due to her sacred tree being cut down, her body is easily harmed by them. She ends up having to do it with the help of Jin and brandishing an improvised exorcist staff created using a magical girl-themed toy baton. When she is in her normal personality, she is mischievous and child like.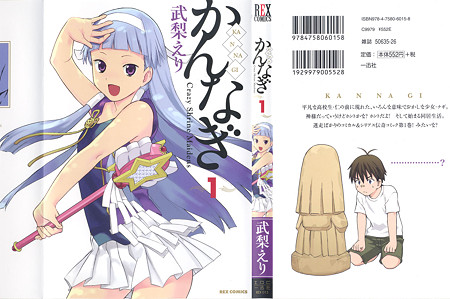 Kannagi is a different personality that exists inside Nagi. She seems to be the only one who knows about Nagi's real identity. When she descends upon Nagi's body, the process cannot last very long as it consumes a significant amount of energy, though this can be prolonged with the help of another person. When Nagi is Kannagi she speaks in a kinder and more holy manner.
By AS on Apr 19, 2012
スポンサーサイト
tag : Anime_Manga