Sponsored Link
スポンサーサイト
Anime & Manga Japan / Vagabond (バガボンド / Manga)
Vagabond -Tribute to Miyamoto Musashi ( バガボンド - 宮本武蔵トリビュート)
Vagabond (バガボンド) is an ongoing manga by Takehiko Inoue, portraying a fictionalized account of Miyamoto Musashi's life, on a loose adaptation of Eiji Yoshikawa's novel Musashi.
The manga has been serialized in Kodansha's seinen Weekly Morning magazine since 1998 in Japan, with translations to English by VIZ Media. As of February 2011, 33 tankōbon volumes have been published in Japan, and all 33 of them have been translated into English in the United States. Vagabond has, to this date, sold more than 22 million copies throughout the world.
Samurai - Miyamoto Musashi Documentary (Mark Dacascos)
Growing up in the late 16th century Sengoku era Japan, Shinmen Takezo is shunned by the local villagers as a devil child due to his wild and violent nature. Running away from home with a fellow boy at age 17, Takezo joins the Toyotomi army to fight the Tokugawa clan at the battle of Sekigahara. However, the Tokugawa win a crushing victory, leading to nearly three hundred years of Shogunate rule.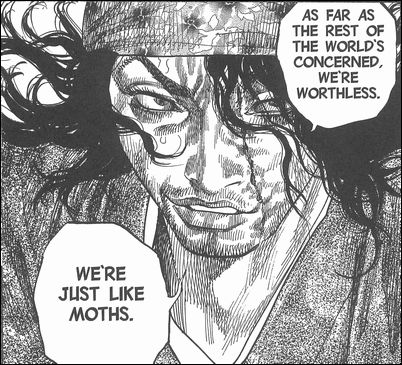 Takezo and his friend manage to survive the battle, and afterwards swear to do great things with their lives. However, after their paths separate, Takezo becomes a wanted criminal and must change his name and his nature in order to escape an ignoble death. Based on the book Musashi by Eiji Yoshikawa, Vagabond is a fictional retelling of the life of Miyamoto Musashi, often referred to as the "Sword Saint", perhaps the most famous and successful of Japan's sword fighters.
By AS on Apr 29, 2012
スポンサーサイト
tag : Anime_Manga, Samurai