Sponsored Link
スポンサーサイト
Anime & Manga Japan / Senki Zessho Symphogear (戦姫絶唱シンフォギア / Swan song of the Valkyries: Symphogear)
Senhime Zesshou Symphogear PV / 戦姫絶唱シンフォギア PV
Senki Zessho Symphogear (戦姫絶唱シンフォギア, lit. Swan song of the Valkyries: Symphogear) is a Japanese anime television series produced by Encourage Films, with production assistance from Satelight, which aired on Tokyo MX between January 6, 2012 and March 30, 2012.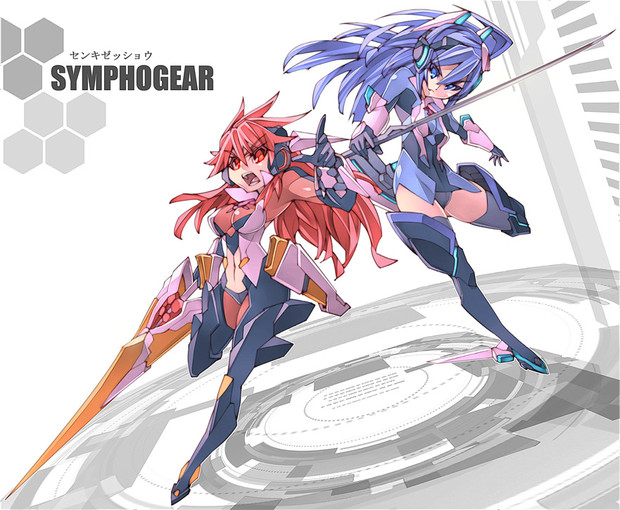 Two years ago, a pair of idols, Tsubasa Kazanari and Kanade Amo, collectively known as ZweiWing, fought against an alien race known as Noise using armor known as Symphogear. To protect a girl named Hibiki Tachibana, who got severely wounded by the Noise, Kanade sacrificed herself. Two years later, as Tsubasa has fought the Noise alone, Hibiki ends up gaining the same power as Kanade.
Hibiki Tachibana (立花 響) is a cheerful, rather childish schoolgirl who attends the same school as Tsubasa. Two years ago while attending a ZweiWing concert, she was nearly killed by the Noise, barely surviving thanks to the sacrifice of Kanade, who taught her never to accept death. During the first episode,when she becomes cornered by the Noise, she sings the same song she heard Kanade sing and ended up gaining Symphogear powers due a fragment of Kanade's armor that entered her body that day. Her Symphogear is Third Relic- Gungnir (ガングニール Ganguniru), which originally belonged to Kanade. However since it is only a fragment, she possesses less armor compared to the original and has no weapons or Arms Gear.
By AS on May 12, 2012
スポンサーサイト
tag : Anime_Manga