Sponsored Link
スポンサーサイト
Anime & Manga Japan Net / L.A. pop culture expo reveals star-studded guest list

(Ei Aoki)
Anime
Expo, the largest fan convention dedicated to Japanese pop culture in North America, will feature "Fate/Zero" and "Wandering Son" anime series director Ei Aoki as a guest of honor.
The event, to be hosted by the Los Angeles Convention Center between June 29 and July 2, normally attracts around 100,000 visitors, offering fans a rare chance to interact with artists, creators, directors and voice actors.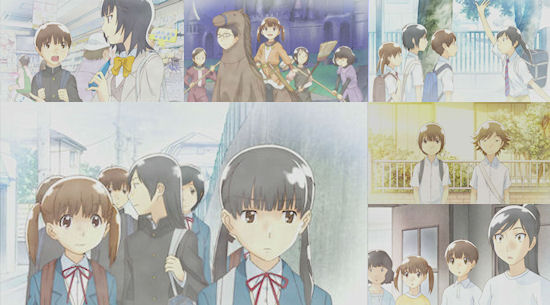 (Wandering Son)
Several other members from the "Fate/Zero" production team will attend, including composer Yuki Kajiura, theme song singer LiSA and voice actor Rikiya Koyama. Aniplex Inc., which co-produced the anime with Ufotable Inc., is also sending its president, Koichiro Natsume, and producer Atsushi Iwakami, part of a push to promote its work in North America.
Tatsuo Sato, director of the "Lagrange--The Flower of Rin-ne" and "Martian Successor Nadesico" series, fashion model Misako Aoki and voice actors Nobuhiko Okamoto and Ryo Horikawa are also on the guest list.
A total of 17 musicians from Japan and elsewhere, including LiSA,
Anime
tal USA and Kajiura, will perform on the convention's stage.
Voice actresses Izumi Kitta and Aimi Terakawa from the "Cardfight!! Vanguard" anime as well as stars from the "Muv-Luv Alternative: Total Eclipse" anime series, including singer Minami Kuribayashi, voice actress Ayami and executive producer Koki Yoshimune, are also expected to be present at the expo.
More than 200 businesses will have booths this year. They include Aniplex, game publisher Namco Bandai Games America Inc., Japan's leading anime studio, Toei Animation Co., and video-sharing website Nico Nico Douga operator Niwango Inc.
For more detailed information, visit
Anime
Expo at (http://www.anime-expo.org/).
Via AJW Link:
http://ajw.asahi.com/article/cool_japan/anime_news/AJ201206220026
By AS on Jun 30, 2012
スポンサーサイト
tag : Anime _Manga_News