Sponsored Link
スポンサーサイト
Anime & Manga Japan / 'The Wolf Children, Ame and Yuki' makes grand premiere in City of Light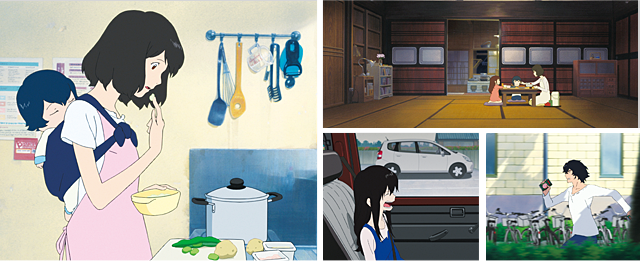 The anime "The Wolf Children, Ame and Yuki" made its world premiere late last month at a packed Paris theater to a standing ovation.
The new film, by critically acclaimed director Mamoru Hosoda, was screened at the UGC Cine Cite Les Halles, the largest cinema complex in the French capital. Hosoda and Aoi Miyazaki, an actress who provided the voice of one of the film's characters, made a stage appearance at the premiere.

"I am excited to have this movie presented to the people in France before it is released anywhere else in the world," Hosoda told the audience.
About 500 fans who packed the venue cheered during the screening and gave a two-minute standing ovation at the end of the movie.
"I saw the film with a fresh sensation because of your emotional response," Miyazaki told the audience. "You made me realize that it is filled with so many scenes that bring laughter."
"The Wolf Children, Ame and Yuki" is the latest animated feature by Hosoda, who has received worldwide acclaim, especially in France, for his previous work, including "The Girl Who Leapt Through Time" and "Summer Wars."
The film is slated to hit cinemas on July 21 in Japan and will also be theatrically released in 34 countries and regions across the globe.
In France, the anime will be released on Aug. 29. Fifty release prints will be prepared for distribution in the country, putting it on par with Takeshi Kitano's yakuza film "Outrage" and "Departures," the winner of the Best Foreign Language Film Oscar at the 81st Academy Awards.
The anime will likely be booked by about 100 theaters across France.
During his stay in France, Hosoda was interviewed by many leading media organizations including the French daily newspapers Le Monde, Le Figaro and Liberation, in addition to the French national TV channel TF1.
An exhibition devoted to Hosoda's artwork is currently being held at the Gallerie Arludik in Paris to celebrate the French release. Background paintings and other illustrations from "The Wolf Children, Ame and Yuki" and other works by the director are on display.
The Paris gallery specializes in works of animation and comic books. Previously featured artists include U.S. film director Tim Burton and anime legend Hayao Miyazaki.
Visit the film's official website at (http://www.ookamikodomo.jp/).
By AS on Jul 24, 2012
スポンサーサイト
tag : Anime_Manga