Sponsored Link
スポンサーサイト
Anime & Manga Japan / 'Magi' manga series gets TV anime adaptation in October
"Magi: The Labyrinth of Magic," an Arabian-themed manga series currently running in Shogakukan Inc.'s weekly Shonen Sunday comic magazine, will be adapted into an animated TV series starting in October.
The official website launched in June is currently streaming a promotional video clip.

(Magi: The Labyrinth of Magic)
Penned by manga artist Shinobu Otaka, "Magi" started serialization in 2009. It revolves around a boy named Aladdin who is traveling a desert land to get to the treasure-filled dungeons with Alibaba who he meets during his adventure.
It is an orthodox fantasy that follows Aladdin's coming-of-age journey filled with magic.
The anime series will air on Sundays at 5 p.m. on MBS and TBS-affiliated networks, taking over "Mobile Suit Gundam AGE" robot anime series.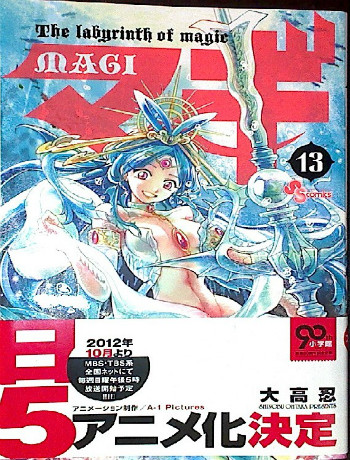 The anime adaptation of "Magi" also celebrates the 90th anniversary of Shogakukan. It is produced by A-1 Pictures Inc., a leading anime studio behind a number of popular titles including "Uchu Kyodai" (Space Brothers), "Blue Exorcist" and "Fairy Tail."
Production staff and voice cast members, as well as other details, will be updated at the official website at (http://www.project-magi.com/index.html).
By AS on Jul 25, 2012
スポンサーサイト
tag : Anime_Manga, J-POP