Sponsored Link
スポンサーサイト
Touch (Manga) Vol. 2
Regarding "
Main characters" of Touch (タッチ) Manga is as follows.
Tatsuya Uesugi (

上杉 達也

,

Uesugi Tatsuya)
The main character. The elder of the Uesugi twins. Seemingly selfish and lazy, Tatsuya's main quality is his altruistic nature.
Naturally athletic, he lets his younger brother progress further than him in baseball so Meisei would win the Koushien fulfilling their childhood dream. Like Kazuya, he loves Minami Asakura, the girl next door and their childhood friend. However, in the field of love, he too cedes to his younger brother, telling everyone that they are meant to be despite his broken heart.

Kazuya Uesugi (

上杉 和也

,

Uesugi Kazuya)
The younger of the Uesugi twins. Serious and hard working, he is the complete opposite of his older brother.




His pitching skills and perfect grades makes him the favorite of his parents who despite his young age, conspire to get him and Minami to marry. His good looks makes him popular with the girls at school, which irks Tatsuya. Though not as naturally athletic as Tatsuya, Kazuya had work hard to hone his skills since an early age. Like his brother, Kazuya is in love with Minami. He suspects early on that Minami is in love with Tatsuya but even when figuring it out to be the truth, he still refuses to give her up. He hopes to take her to the Koushien and win, fulfilling their dream.

Minami Asakura (

浅倉 南

,

Asakura Minami)
The Uesugi twins' neighbour and childhood friend. An intelligent and active student who has to help her father with house chores and at the family coffee shop since her mother died at a young age.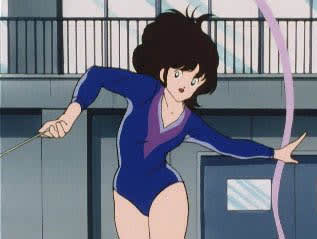 Minami is a pretty girl who is popular at school and the object of desire for both the Uesugi twins. Although her widower father and Mr. and Mrs. Uesugi often pair Minami and Kazuya to be married, her heart truly lies on Tatsuya. Despite that, she is more often seen with Kazuya and actively supports him on the road to the Koushien which makes everyone think that Minami is actually in love with Kazuya, the star pitcher. Like the twins, she is also naturally talented in sports.

Shingo and Haruko Uesugi, Punch
Tatsuya and Kazuya's parents. Always seen flirting and teasing with each other despite the boys' presence. Mr. Uesugi sometimes puts on a straight face, usually to tell off Kazuya but soon turns back to teasing with his wife. Mrs. Uesugi is always seen smiling, sometimes giggling behind her hand. They live very carefree lives, often at the cost of their sons. Punch is the Uesugi family Samoyed.

Toshio Asakura (

浅倉 俊夫

,

Asakura Toshio)
Minami's father and owner of the Minami Kaze ("South/Southern Wind") coffee shop. A widower, his wife died when Minami was very young. Despite of that, he maintains an upbeat, positive attitude especially when seeing Minami and Kazuya together, hoping that they would soon marry. During match days, he would either watch Meisei's team at the stadium or watch them on the coffee shop's TV if the match is broadcast. Mr. Asakura is also an occasional baseball player.

Kōtarō Matsudaira (

松平 孝太郎

,

Matsudaira Kōtarō)
Meisei's catcher. He is Kazuya's best friend and is always paired with him.

Shōhei Harada
A big, intimidating schoolmate at Meisei. Despite his appearance and gruff attitude, Harada frequently gives Tatsuya sound advice on various matters, and at times shows he genuinely cares about his well being.

Akio Nitta (

新田 明男

,

Nitta Akio)
A star slugger for Sumi Tech, the runner-up team at Koshien. Akio became seriously devoted to baseball when he played against Kazuya in middle school. He has a mild crush on Minami, and is a friend of Harada's during junior high when he was a delinquent.

Yuka Nitta (

新田 由加

,

Nitta Yuka)
Akio's little sister, she is unusually close to her brother, and somewhat immature besides. She enters Meisei under the pretense of spying for her brother, but seems to develop a schoolgirl crush on Tatsuya. Nevertheless, she is very good at observing and analyzing baseball players.

Isami Nishimura (

西村 勇

,

Nishimura Isami)
A somewhat conceited pitcher who overestimates his worth in the story. He has a decent curve ball, but is not considered a threat by any of the main characters. He is easily forgotten and ignored, but considers Akio Nitta to be his only rival.




Eijirō Kashiwaba (

柏葉 英二郎

,

Kashiwaba Eijirō)
A substitute coach, hired under coach Nishio's recommendation. A brutal coach with a Spartan attitude, on his first day, he fires Minami as manager and ruthlessly beats Tatsuya, Nishimura, and anyone who slacks off on the team. Because of him, the entire team works much harder, but lose their enjoyment of the game, causing many to quit. He holds a grudge against Meisei's baseball team because of some events that occurred when he attended.

By A.S. on Jul 3, 2009
スポンサーサイト