Sponsored Link
スポンサーサイト
Haruhi Suzumiya Photo Series Vol. 1
Haruhi Suzumiya
(

涼宮ハルヒ

,

Suzumiya Haruhi)
is the general name for a series of light novels written by Nagaru Tanigawa and illustrated by Noizi Ito, and subsequently adapted into other media.
As you might know, Nishinomiya City which is located in Hyogo Prefecture around 15 km away from Kobe and/ or Osaka.
Hankyu Railway / Nishinomiya Kitaguchi Station is used as meeting place by the Members of SOS Dan (SOS Brigade).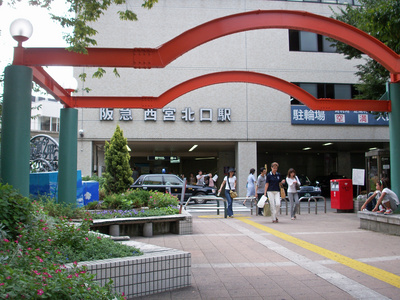 (Hankyu Railway / Nishinomiya Kitaguchi Station)
(The Scene in Anime and/or Manga of above)
(Narrow lane and Kyon parks his bicycle at right side Bank)
(There's a mark of "No Parking for Bicycle" in front of the Bank.)
(The same lane from another angle.)
(The Clock Tower in a public square.)
(The Coffee Shop named "Dream" near from Nishinomiya Kitaguchi Station.)
(Baseball Stadium in the Chuo Park.)
(Baseball Stadium in the Chuo Park.)
(Baseball Stadium in the Chuo Park.)
(Baseball Stadium in the Chuo Park.)
(Family Restaurant where they held a grand victory celebration.)
By A.S. on Jul 17, 2009
スポンサーサイト