Sponsored Link
スポンサーサイト
Ghibli Museum, Mitaka (三鷹の森ジブリ美術館)
JAPANESE ANIME SPOT / Miyazaki Hayao (47) / Miyazaki Hayao (49)

Introduce
Ghibli Museum, Mitaka (三鷹の森ジブリ美術館)
.
The Museum has English Site and recomend
Ghibli Museum, Mitaka (三鷹の森ジブリ美術館, Mitaka no Mori Jiburi Bijutsukan, Mitaka Forest Ghibli Museum)
is a commercial museum featuring the Japanese anime work of Studio Ghibli, and is located in Inokashira Park in Mitaka, a western suburb of Tokyo, Japan.
If you visit the English Web Site of "
Ghibli Museum, Mitaka (三鷹の森ジブリ美術館)
", you will find the wording as follows.
=========
This is the Kind of Museum I Want to Make!
A museum that is interesting and which relaxes the soul
A museum where much can be discovered
A museum based on a clear and consistent philosophy
A museum where those seeking enjoyment can enjoy, those seeking to ponder can ponder, and those seeking to feel can feel
A museum that makes you feel more enriched when you leave than when you entered!
=========
The museum is a fine arts museum, but does not take the concept of a usual fine arts museum.
With many features that are child-oriented and a sprawling and occasionally mazelike interior, the museum is a playfully created place.
Centered around the motto appearing on the museum's website "Let's become lost children together" (迷子になろうよ、いっしょに, Maigo ni narō yo, isshoni), or 'let's lose our way together' as it is translated in the English leaflet.
It has no set path or order of viewing.
While the museum brochure contains a variety of languages, the signs within the museum are in Japanese only.
The History of the Museum is as follows.
Planning for the museum began in 1998. Construction started in March 2000, and the museum officially opened October 1, 2001.
Hayao Miyazaki
designed the museum himself, using drawn storyboards similar to the ones he makes for his films. The design was influenced by European architecture, such as the hilltop village of Calcata in Italy. Miyazaki's aim was to make the building itself part of the exhibit.
Special exhibitions
In addition to Ghibli-oriented exhibitions, the museum hosts an area where it brings in other animation work.
Access to Ghibli Museum, Mitaka (三鷹の森ジブリ美術館)"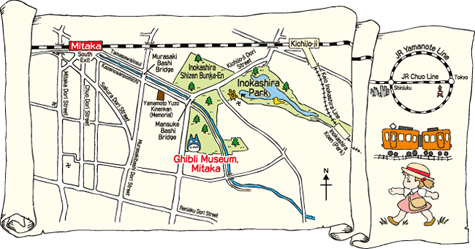 Address: 1-1-83 Simorenjaku, Mitaka-shi,
Tokyo 181-0013

Within Mitaka Inokashira Park.
To Mitaka station, take the JR Chuo Line. Approx. 20 min. from Shinjuku station.
From the Mitaka South Exit, approx. 15 min. walk along the Tamagawa Josui "Waterworks" to the museum.

A Community Bus is in operation from Mitaka Station to the Museum.
(Fare: one-way 200 yen / round trip 300 yen - 1/2 price for children under 12 years old)

Here is the bus schedule to the Ghibli Museum from Mitaka station (South Exit / Buss stop #9)

By A.S. on Dec 27, 2009
スポンサーサイト