Sponsored Link
スポンサーサイト
Diary of Ma-chan / Tezuka Osamu Series (Vol. 1)
Taking up herewith the works by Tezuka Osamu.
At first refer to Diary of Ma-chan, 1946.
Tezuka debuted with this four-panel newspaper strip, published in the Osaka edition of Shokokumin Shimbun (Mainichi School Children's Newspaper).
The story is set shortly after Japan's defeat in the Second World War and follows the adventures of little Ma-chan, who wants to learn the English ABC's from the American soldiers occupying his country.
Tezuka was only 17 years old when he produced this work.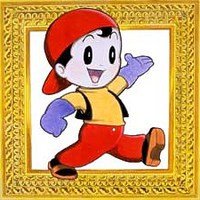 Diary of Ma-chan is a collection of 4-panel comic strips about the everyday adventures of a small pre-school boy named Ma-chan.
The manga consists of 73 strips.
By A.S. on Jan 18, 2010
スポンサーサイト