Sponsored Link
スポンサーサイト
The Powerpuff Girls
The Powerpuff Girls is an American animated television series about three kindergarten-aged girls who have superpowers.
Created by animator Craig McCracken, the program was produced by Hanna–Barbera until 2001 when Cartoon Network Studios took over production for Cartoon Network.
The show has been nominated for an Emmy Award five times, in the category Outstanding Achievement in Animation.

(The Powerpuff Girls / Image)
The Powerpuff Girls revolves around the adventures of Blossom, Bubbles, and Buttercup. Professor Utonium wanted to make "the perfect little girl" by using "sugar... spice... and everything nice." However, the accidental addition of Chemical X into the mixture created three girls instead, each having superpowers but whose individual personality was dominated by one of the ingredients ("sugar" for Bubbles, "spice" for Buttercup, and "everything nice" for Blossom).
The plot of a typical episode is some humorous variation of standard superhero and tokusatsu fare, with the girls using their powers to defend their town from villains and giant monsters. In addition, the girls also have to deal with normal issues young children face, such as bed wetting or dependence on a security blanket. Episodes often contain more or less hidden references to older (circa 1950s to 1980s) pop culture.
Powerpuff Girls - Love Makes the World Go Round (Japanese)
The show mainly takes place in the fictional city of Townsville, USA. Townsville is depicted as a major American city, with a cityscape consisting of several major skyscrapers. The physical location of Townsville has never been determined. Cities like Los Angeles, New York City, Seattle, Paris, London, and Tokyo have been shown throughout the series.
The show has a highly stylized, minimalistic visual look, reminiscent of Hanna-Barbera's previous limited animation including The Huckleberry Hound Show, Yogi Bear, and The Flintstones.
In his review of The Powerpuff Girls Movie, movie critic Bob Longino of The Atlanta Journal-Constitution said that "the intricate drawings emanate 1950s futuristic pizazz like a David Hockney scenescape", and that the show is "one of the few American creations that is both gleeful pop culture and exquisite high art".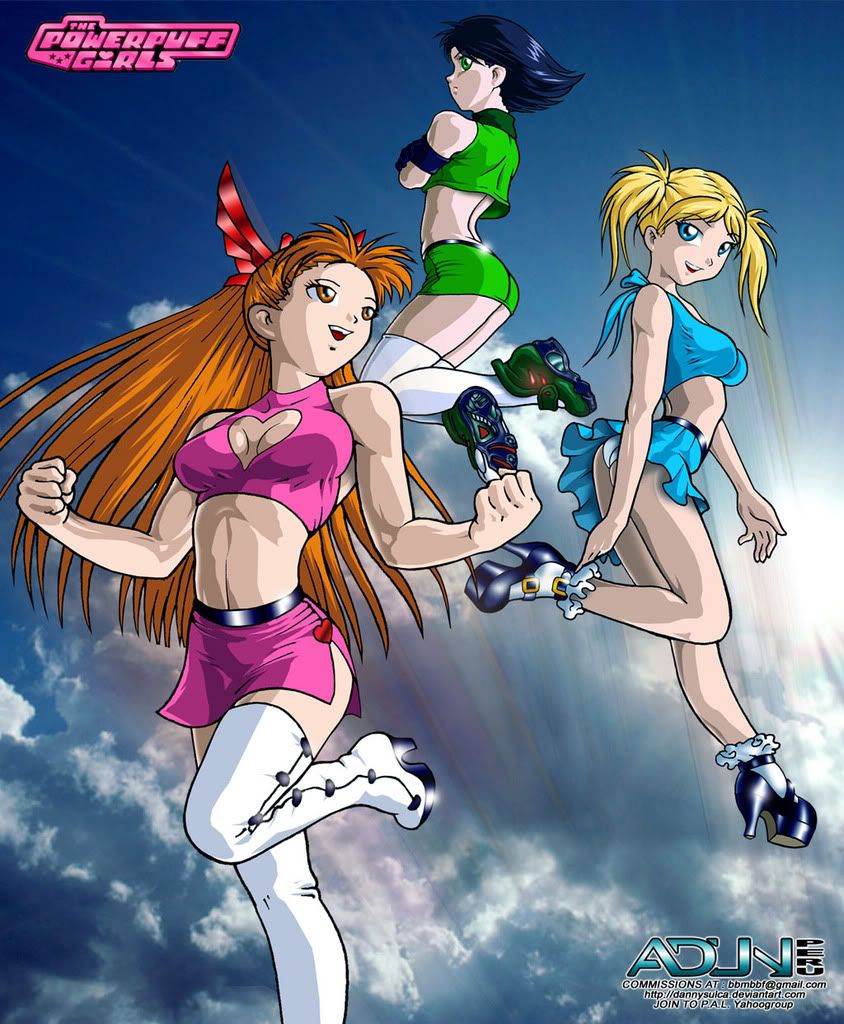 The original 79 episodes were hand-drawn and produced at Rough Draft Studios in South Korea, but for the 2009 special episode The Powerpuff Girls Rule!!! was animated with Adobe Flash at Cartoon Network Studios. The show's animation director was Genndy Tartakovsky (Dexter's Laboratory, Samurai Jack), who also directed many episodes himself.
By A.S. on Apr 22, 2010
スポンサーサイト