Sponsored Link
スポンサーサイト
Perfect Blue (パーフェクトブルー) / Japanese Anime
Perfect Blue (パーフェクトブルー, Pāfekuto Burū) is a 1998 feature-length anime film, directed by Satoshi Kon (loosely based on the novel of the same name by Yoshikazu Takeuchi).
The film is a psychological thriller about Mima Kirigoe, a member of a Japanese pop-idol group called "CHAM!", who decides to pursue her career as an actress.
Some of her fans are displeased with her sudden career change, particularly a stalker named Me-Mania.
As her new career proceeds, Mima's world becomes increasingly reminiscent of the works of John and Peter: reality and fantasy spiral out of control, and Mima discovers that Me-Mania is the least of her troubles.
Perfect Blue パーフェクトブルー Trailer HD
Mima Kirigoe, a pop-idol from the J-pop group "CHAM!", decides to leave the group to become an actress. Her first project is as in a direct-to-video drama series called "Double Bind". Some of her fans are upset by her change in career and persona, not least the stalker known as "Me-Mania". Shortly after leaving CHAM!, Mima receives an anonymous fax calling her a traitor.
Mima finds a website called "Mima's Room" that has public diary entries which seem to be written by her discussing her life in great detail. She confides in her manager Rumi Hidaka about the site, however, she is advised to just ignore it.
Perfect Blue - Closer
Meanwhile, on the set of Double Bind, Mima succeeds in getting a larger part. The producers have agreed to give her a leading role, however, it is as a rape victim in a strip club. Rumi warns Mima that it will ruin her reputation, but Mima accepts the part voluntarily. Though it is apparent that Mima is indecisive, the atmosphere of the scene traumatizes her so much that she increasingly becomes unable to separate reality from fantasy. She can no longer distinguish real life from her work in show business.
Matters take a dramatic turn when several of those who had been involved in the soiling of her squeaky clean image on her are gruesomely murdered. She finds evidence which makes her appear to be the prime suspect, and her increasing mental instability makes her doubt her own innocence.
It turns out that the diarist of "Mima's Room" is totally delusional and very manipulative, and that an intense folie à deux has been in play. The faux diarist and serial killer, who believes herself to be a Mima who is forever young and graceful, has made a scapegoat of stalker Me-Mania.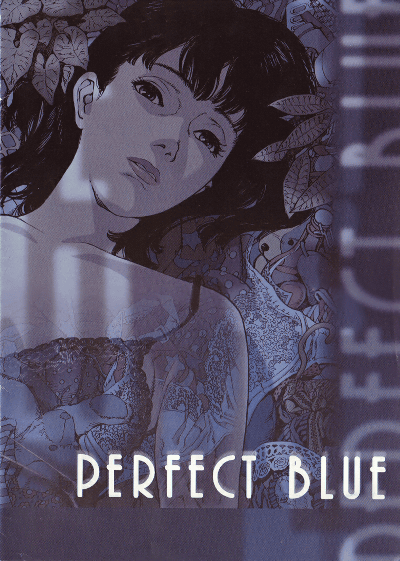 Mima smashes Me-Mania with a hammer in self-defense when he attempts to rape her, and runs to her only support she has left alive, her manager Rumi. Mima's world finally collapses entirely as Rumi is discovered to be the false diarist, who believes she is the "real Mima". Rumi is angry that Mima has been ruining the "real Mima's" reputation, and decides to save "Mima's" pristine pop idol image through the same means she has been using all along -- murder. Mima manages to incapacitate Rumi in self-defense after a chilling chase through the city despite being wounded herself.
In the anime's denouement, Rumi remains permanently delusional and institutionalized. Mima has grown from her experiences and has moved on with her life with new found independence and confidence.
By A.S. on June 19, 2010
スポンサーサイト