Sponsored Link
スポンサーサイト
Pokémon: The Movie 2000
Pokémon: The Movie 2000, originally released in Japan as Pocket Monsters the Movie: Revelation - Lugia (劇場版ポケットモンスター 幻のポケモン ルギア爆誕, Gekijōban Poketto Monsutā Maboroshi no Pokemon Rugia Bakutan, lit. "The Phantom Pokémon, Lugia's Explosive Birth"), is a 2000 Japanese animated film directed by Kunihiko Yuyama as the second Pokémon feature-length film, complementing the Orange Islands saga of the series and featuring several new Pokémon, including Lugia and Slowking.
This is the only Pokémon movie to date that does not include one of the main characters, Brock, who temporarily left during the season on which the film is based.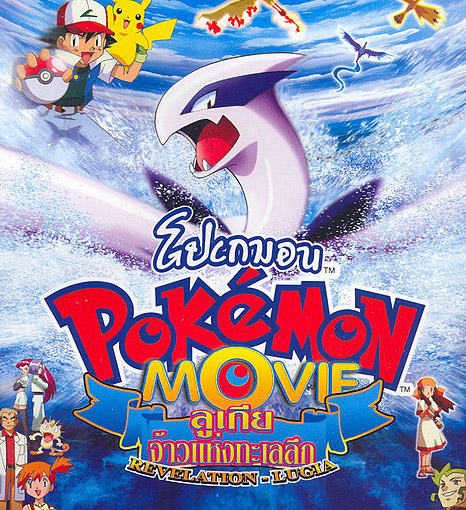 As with before, the faces of the main human characters are unseen. When Togepi falls down a dark hole, Pikachu, Bulbasaur, Squirtle, Marill, Venonat, and Psyduck give chase and find themselves in a giant tree that once was Pikachu's old home.
Pokemon - The Movie 2000 - Part 1
With help from Pikachu's old friend, Elekid, the Pokémon find Togepi but she has been mistaken for an Exeggcute egg. The Pokémon head off into the depths of the tree to find the missing egg, meeting a trio of dancing Bellossom along the way. A deadly storm hits the area and Pikachu and his friends try to protect the Exeggcute eggs from being blown away.
Pokemon - The Movie 2000 - Part 2
The tree Pokémon lend a hand and Snorlax saves everyone with his great strength.The storm fades when a Dragonair appears and calms the storm and a Chansey appears, revealing she had the missing egg all along. The eggs are reunited. Exeggcute suddenly evolves into Exeggutor with the assistance of a Leaf Stone.
Pikachu and his friends say farewell to Elekid and the others and head back to their trainers. Meanwhile, Meowth tries to find his way to a campsite but ends up getting caught on Pikachu's mishaps and gives up.
By A.S. on July 8, 2010
スポンサーサイト
tag : Pokémon