Sponsored Link
スポンサーサイト
Oishinbo
Oishinbo (美味しんぼ, lit. "The Gourmet") is a long-running cooking manga written by Tetsu Kariya and drawn by Akira Hanasaki. The manga's title combines the Japanese word for delicious, oishii, and the word for someone who loves to eat, kuishinbo.
The series depicts the adventures of culinary journalist Shirō Yamaoka and his partner (and later wife), Yūko Kurita. It has been published by Shogakukan between 1983 and 2008 in Big Comic Spirits, before resuming again on February 23, 2009, and collected in 104 tankōbon volumes. The series was a perennial best-seller, selling 1.2 million copies per volume, for a total of more than 100 million volumes as of January 2009.
oishinbo
The series received the 1987 Shogakukan Manga Award for seinen/general manga. It was adapted as a 136-episode anime television series broadcast on TV Asahi from October 17, 1988 to March 17, 1992plus two sequel anime television specials.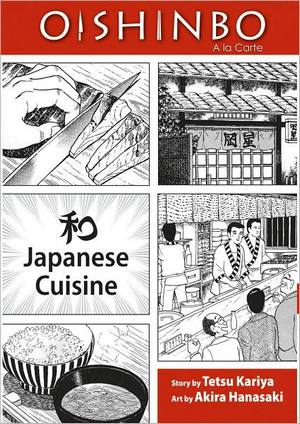 (Oishinbo a la Carte cover image is courtesy of barnesandnoble.com.)
It is licensed in English in North America by Viz Media, which published the first volume January 2009. Seven volumes from the Oishinbo a la Carte (美味しんぼア・ラ・カルト) series were published from January 2009 to January 2010. These editions are thematic compilations (and thus jumping back and forth in continuity), making the English editions effectively a "best-of of a best-of".
These volumes are:
* Oishinbo: Japanese Cuisine (January 20, 2009; a la Carte volume 20) ISBN 1-4215-2139-3
* Oishinbo: Sake (March 17, 2009; a la Carte volume 26) ISBN 1-4215-2140-7
* Oishinbo: Ramen & Gyoza (May 19, 2009; a la Carte volume 2) ISBN 1-4215-2141-5
* Oishinbo: Fish, Sushi & Sashimi (July 21, 2009; a la Carte volume 5) ISBN 1-4215-2142-3
* Oishinbo: Vegetables (September 15, 2009; a la Carte volume 19) ISBN 1-4215-2143-1
* Oishinbo: The Joy of Rice (November 17, 2009; a la Carte volume 13) ISBN 1-4215-2144-X
* Oishinbo: Izakaya: Pub Food (January 19, 2010; a la Carte volume 12) ISBN 1-4215-2145-8
By A.S. on Sep 24, 2010
スポンサーサイト
tag : Oishinbo