Sponsored Link
スポンサーサイト
Satonaka and 'Arrugas' creator Paco Roca talk about manga vs. comics
Manga artist
Machiko
Satonaka
joined Spanish comic book creator Paco Roca on stage to discuss their genres at a symposium Sept. 1 at the Instituto Cervantes de Tokio, an institute working to spread Spanish culture and arts.
The event, "Nurturing culture together: Dialogue between Spanish and Japanese creators," also featured notable figures like architect Kengo Kuma and author Kenzaburo Oe, who spoke on their fields of expertise.

(Machiko Satonaka)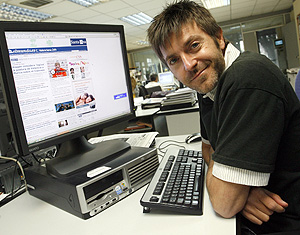 (Paco Roca)
Satonaka
is a well-known writer of girls' manga, while Roca is famous for his diverse creations, not only in Spain but elsewhere in Europe. His gift as a comic artist is regarded highly, especially showcased in the award-winning "Arrugas" (Wrinkles), published in France in 2007.
After introducing
Satonaka
and Roca, the host briefly explained the roles played by manga and comics in the two cultures.
Satonaka
started by talking about manga's rise in cultural and social stature in Japan.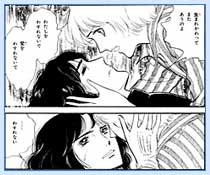 (The waroks by Machiko Satonaka)
When Satonaka was 12 years old, she decided to become a manga artist. At that time, manga was often criticized as being harmful to children. And writing manga was certainly not a way to make money. Nevertheless, the young Satonaka believed that manga's status would rise in the same way that the status of filmmaking did.
Also, even back then, people did not care about the gender of manga writers, as long as the story was entertaining. Satonaka said this feeling of less prejudice and discrimination against female writers was another reason she aspired to become a manga artist.
 (Arrugas by Paco Roca)
Manga made a great leap forward thanks to Osamu Tezuka. Satonaka said Tezuka is credited with many things, such as offering complex stories to children and dealing with profound themes. Thanks to Tezuka, modern manga is now used to depict almost any theme or story.
She also pointed out that, roughly speaking, manga can be appealing even when the script, story and artwork are not necessarily of excellent quality. Satonaka believes that since manga is a form of expression in which an artist can create a work entirely alone, creative people in Japan who could have gone into filmmaking or theater have been drawn to manga.
According to Roca, the widely prevalent idea in Europe is that Western paintings are the main inspiration for comics. Since comics are judged in this context, the quality of the drawing is considered more important than is the case for manga. Therefore, comic artists are expected to show their skill through artwork.
In Spain, storylines in comics are often regarded as simple, with comics seen as something for children to read during the transition period before they start to appreciate literature.
Classic comic book works such as "The Adventures of Tintin" by a Belgian comic writer and "Asterix," written by a pair of French creators, were exceptions. Mainly, works that depict the struggle between good and evil were the most read.

(Lagu Cinta Akiko by Machiko Satonaka)
Roca says things started to change when adult-oriented French comics became popular.
Manga from Japan reached Europe in the 1980s, when they began to influence the story development of Spanish comics. Readers began to accept the idea of a longer storyline being told over many more pages, allowing greater flexibility in what comics can express. This has allowed comics to deal with more complex themes and stories.
Roca also pointed out that unlike in Japan, where female manga artists like Satonaka are active and genres of manga directed at women exists, comics in Europe have until recently been dominated by men.
Since most comics were written by and for men, the themes and stories were often geared to masculine tastes. Yet in recent years, the number of female writers and readers of comics is rising.
In response to Roca's comments on how Japanese manga affected European comics, talks between Satonaka and Roca moved on to the event's theme of collaboration and nurturing culture together.
Although Satonaka said she was regrettably not well-versed in the comic and manga scene in Spain, she said that its architecture and paintings greatly affected her sensibility as a younger artist. For instance, she was struck by the fact that how different are the paintings of the same person by Spanish painters Velazquez and Goya. This, she added, taught her what painting as a profession means.
Satonaka also said culture is not something that can be discussed by focusing on a single field. Sensibility is formed only through the exchange of aesthetic values of various works in diverse fields, and manga today is a result of this, she said.
Roca agreed and noted that culture has historically developed through cross-cultural interactions, such as with the 19th-century Impressionists, the impact of Akira Kurosawa on Hollywood and Jiro Taniguchi's influence on European comics.
The moderator also asked Satonaka about digital comics in Japan and she talked about the possibilities that how artists draw manga for digital comics will evolve. However, the time was soon up and there the talk ended.
Overall, the discussion was interesting, but the time limit of 40 minutes, inevitable due to the program constraints, was too short. Unfortunately, the audience, who rarely have the chance to hear Roca speak in person, did not get to hear him talk in depth about how he produces his works and how his works are accepted abroad.
Roca's "Arrugas" is highly acclaimed. The work deals frankly with aging. The powerful depiction of the main character's Alzheimer's symptoms is done in a way only possible in comics.
Since it deals with an inspiring theme that transcends borders, its publication in Japanese is strongly hoped for. Perhaps the symposium will be the catalyst that makes that happen.
By A.S. on Oct 10, 2010
スポンサーサイト