Sponsored Link
スポンサーサイト
Soul Eater
Soul
Eater
(ソウルイーター) is a Japanese manga written and illustrated by Atsushi Okubo. Set at the "Death Weapon Meister Academy," the series revolves around three teams consisting of a weapon meister and (at least one) human weapon. Trying to make the latter a "Death Scythe" and thus fit for use by the academy's headmaster, Shinigami (better known as Death), they must collect the souls of 99 evil humans and one witch, in that order or they will have to restart all over again.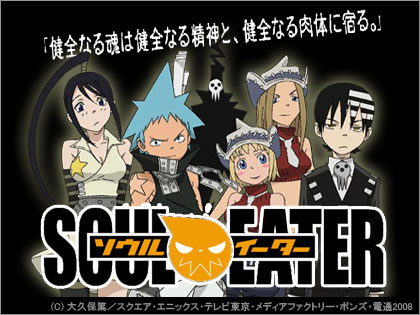 In
Soul
Eater
, meister (職人) Maka Albarn and her weapon partner
Soul
Eater
are students at Death Weapon Meister Academy (死神武器職人専門学校)—"DWMA" (死武専, Shibusen) for short—located in the fictional Death City in Nevada, United States. The school has many other students including Black Star with his weapon partner Tsubaki, and Death the Kid with his weapon partners Liz and Patty. The school is run by Shinigami, Death himself, as a training facility for weapons and the human wielders of those weapons, the meisters.
Soul Eater Amv W.U.N
Maka's goal, along with the other meisters, is to have their weapons defeat and absorb the souls of 99 evil humans and one witch, which will dramatically increase the power of the given weapon and turn them into death scythes, weapons capable of being used by shinigami. In the universe of
Soul
Eater
, witches are powerful beings and the natural enemies of DWMA, as almost all of them have a destructive nature and desire anarchy.
Shortly after the start of Soul Eater, Maka and Soul Eater face off against the forces of the witch Medusa, who forces her child, the meister Crona and wielder of the demon sword Ragnarok, to collect non-evil human souls to transform Crona into a kishin (鬼神), an evil demon god. Medusa and her cohorts attack DWMA with the intention of reviving Asura, the first kishin who nearly plunged the entire world into madness before being sealed beneath DWMA by Shinigami. Despite the combined efforts of Maka, Black Star, and Death the Kid, Medusa's group successfully revives Asura, who leaves to spread chaos around the world after a brief battle with Shinigami. However, Medusa is seemingly killed by the meister and DWMA teacher Franken Stein in the process, while Crona surrenders to DWMA and goes on to enroll there and befriend Maka.
By AS on Feb 2, 2011
スポンサーサイト