Sponsored Link
スポンサーサイト
Battle Royale
Battle
Royale
(バトル・ロワイアル, Batoru Rowaiaru) is a 1999 Japanese novel written by Koushun Takami.
The novel has been adapted into a film and a manga series (both of which have received sequels), and translated into English, French, German, Italian, Russian, Norwegian, and Hungarian.
Battle
Royale
takes place in an alternate timeline—Japan is a member region of a totalitarian state known as the Republic of Greater East Asia (大東亜共和国 Dai Tōa Kyōwakoku). Under the guise of a "study trip," a group of students from Shiroiwa Junior High School (城岩中学校 Shiroiwa Chūgakkō) in the fictional town of Shiroiwa (Kagawa Prefecture) are gassed on a bus. They awaken in the Okishima Island School on Okishima, an isolated, evacuated island southwest of Shodoshima, also in Kagawa Prefecture. They learn that they have been placed in an event called the Program. Officially a military research project, it is a means of terrorizing the population, of creating such paranoia as to make organized insurgency impossible. In the manga, the economy collapsed, and the government created the Program to revitalize it. According to the rules, every year since 1947, 50 third-year high school classes are isolated, and each class is required to fight to the death until one student remains. Their movements are tracked by metal collars, later identified as Model Guadalcanal No. 22, around their necks, which contain tracking and listening devices; if any student should attempt to escape the Program, or enter declared forbidden zones, a bomb will be detonated in the collar, killing the wearer. If no student dies in any 24 hour period, all collars will be detonated simultaneously.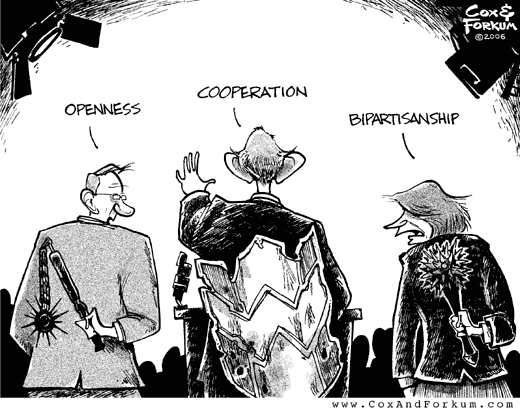 After being briefed about the Program, the students are issued survival packs that include a map, compass, flashlight, food and water, and a random weapon or other item, which may be anything from a gun to a paper fan. During the briefing, two students (Fumiyo Fujiyoshi and Yoshitoki Kuninobu) anger the supervisor, Kinpatsu Sakamochi, who kills both. As the students are released onto the island, they each react differently to their predicament; beautiful delinquent Mitsuko Souma murders those who stand in her way using deception, Hiroki Sugimura attempts to find his best friend and his secret love, and Shinji Mimura makes an attempt to escape.
In the end, four students remain: protagonist Shuya Nanahara, Noriko Nakagawa, Shogo Kawada—a survivor of a previous instance of the Program—and antagonist Kazuo Kiriyama. Following a car chase and shoot-out between Kazuo and the main characters, Noriko paralyzes Kazuo by shooting him. Shogo then finishes off Kiriyama and then takes his two partners to a hill. After telling Shuya and Noriko that he will kill them, Shogo shoots in the air twice, faking their deaths for the microphones planted on the collars. He then dismantles the collars. While Shogo is on the winner's ship, Shuya and Noriko have also boarded. On the ship, Shogo kills Sakamochi and a soldier, while Shuya kills the other soldiers on board. Shogo tells Shuya how to escape, succumbs to his wound from the battle with Kiriyama and dies. The two remaining students return to the mainland and find a clinic belonging to a friend of Shogo's father. From there, they make plans to escape to the U.S., facing an uncertain future as they run from the authorities.
By AS on Feb 20, 2011
スポンサーサイト