Sponsored Link
スポンサーサイト
Anime and manga creators band together for quake charity e-book
"Pray for Japan from Japanese Creator Vol. 01," an e-book for Apple Inc.'s iPhone and iPad whose sales will go toward helping survivors of the March 11 Great East Japan Earthquake, hit digital shelves on March 31.
Contributing artists include Akemi Takada, character designer for the anime adaptations of "Mobile Police Patlabor," and Yoshikazu Yasuhiko, character designer for the "Mobile Suit Gundam" franchise.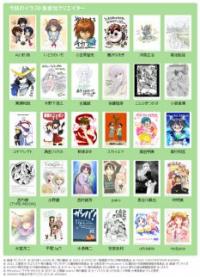 The first volume contains contributions from about 30 animators, manga artists, anime directors and illustrators who have contributed to Newtype magazine. In addition, anime studio ufotable Inc. joined forces for the project. Their artworks were compiled by Newtype editors.
The e-book is available for download via the Book Walker app, which handles digital content from Kadokawa Group Holdings Inc.
Book Walker operator Kadokawa Contents Gate Co. launched the idea. All sales from the project will be donated to relief funds.
The book contains original content from the contributors with personal messages urging the survivors to do their best to rebuild their lives.
The publication is priced at 450 yen ($5.27), including tax., and will be sold until Sept. 25.
All proceeds, minus Apple Inc.'s 30-percent handling fee, will be donated as relief funds to the Japanese Red Cross Society.
Video of Tsunami due to Tohoku Quake
Kadokawa Contents Gate said it will publish more e-books to continue generating funds for those affected by the devastating earthquake and tsunami disaster. Subsequent volumes will likely take a new approach.
Visit (http://bookwalker.jp).
By AS on Apr 11, 2011
スポンサーサイト