Sponsored Link
スポンサーサイト
How-to guide helps lure anime, manga fans to boost local economies
Manga
and anime fans love to explore the places that inspired stories in their favorite comic books and movies. Their interest has grown to such an extent that local economies are getting a welcome lift from the unexpected fan interest.
The surge in spending has caught the attention of city halls around Japan that hope to capitalize on it by devising plans to lure pop-culture "content" fans.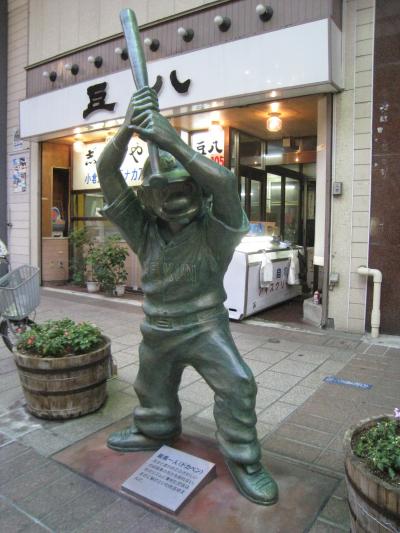 (Niigata has erected statues of characters from the baseball manga "Dokaben"
in a move it hopes will revitalize the local economy.)
Still, some voice doubts that such interest will be lasting.
A new book, "
Anime
,
Manga
de Chiiki Shinko" (Local revitalization with anime and manga), released April 18 from Tokyo Horei Publishing Co., looks at the issue and offers a practical guide for municipalities.
Written by Takayoshi Yamamura, an associate professor at Hokkaido University who specializes in revitalization measures related to anime and manga, the book explains what the author calls "content-based tourism."
The book offers concrete advice on how to use imaginative pop-culture works to generate fans of a real-life community. Yamamura provides examples of several municipalities that have successfully attracted anime and manga fans.
Anime
titles that Yamamura cites include "Lucky Star," a TV cartoon series whose story unfolds in the Washinomiya district of Kuki city in Saitama Prefecture. The author also refers to "Sengoku Basara," set in Miyagi Prefecture, as well as "Summer Wars," which takes place in the city of Ueda in Nagano Prefecture.
Yamamura goes on to explain ways to gauge fan sentiment, collaborate with anime producers, develop anime-related products and organize fan events. The author also suggests how to encourage fans develop greater attachments to communities.
Listing general facts about regional incentive measures, this is a practical guidebook aimed at local officials and manga and anime content producers. In-depth interviews with officials of the chambers of commerce and industry in the Washinomiya district and the Ueda city, as well as anime studio Production I.G Inc. and anime fans and professionals, are included.
The 248-page book costs 2,400 yen ($29), including tax.
By AS on May 6, 2011
スポンサーサイト