Sponsored Link
スポンサーサイト
Barefoot Gen (はだしのゲン)
Barefoot Gen (はだしのゲン, Hadashi no Gen) is a Japanese manga series by Keiji Nakazawa. Loosely based on Nakazawa's own experiences as a Hiroshima survivor, the series begins in 1945 in and around Hiroshima, Japan, where the six-year-old boy Gen lives with his family. After Hiroshima is destroyed by atomic bombing, Gen and other survivors are left to deal with the aftermath.
Barefoot Gen ran in several magazines, including Weekly Shōnen Jump, from 1973 to 1985. It was subsequently adapted into three live action film adaptations directed by Tengo Yamada, which were released between 1976 and 1980. Madhouse released two anime films, one in 1983 and one in 1986. In 2007, a live action television drama series adaptation aired in Japan on Fuji TV over two nights, August 10 and 11.
The story begins on August 4, 1945, with the everyday life of Gen, his younger brother Shinji, their father Daikichi, elder sister Eiko, and pregnant mother Kimie, during the end of World War II.
The beginning of the plot mainly focuses on the Nakaoka family's struggle to afford food ration cards and other items due to food shortages throughout Japan, and points out the fact that Hiroshima has not yet been attacked by an air raid fire bombing like the other Japanese cities of similar size and importance.
はだしのゲン 米で出版へ
Gen and Shinji try and help their family by working tirelessly in the family's wheat field, or attempting to find food to feed their pregnant mother Kimie, who has grown ill from malnutrition.
On the night of August 5, the family is awakened by an air raid and take refuge in their bomb shelter, though, after some time, it is clear this is yet another false alarm. During the ordeal, Gen's father Daikichi states his fears concerning the constant passing of enemy aircraft with no following attack and his suspicion that Hiroshima is being saved for something special.
Barefoot Gen, Hiroshima Destroyed by YouTube
The next morning, Gen presents a wooden battleship he has made to Shinji, promising to take him to the river to set it afloat after he returns from school, and leaves his home around 7:40 in the morning. Upon reaching his school, Gen takes notice of a passing B29 aircraft and discusses with a female friend the oddity of its passing over the city with no air raid siren warning accompanying it, as was often common. As this occurs, his father, sister, and brother watch and discuss as an army of ants enters their home in large numbers, while his mother hangs clothes on a clothesline on a second-floor balcony of the house.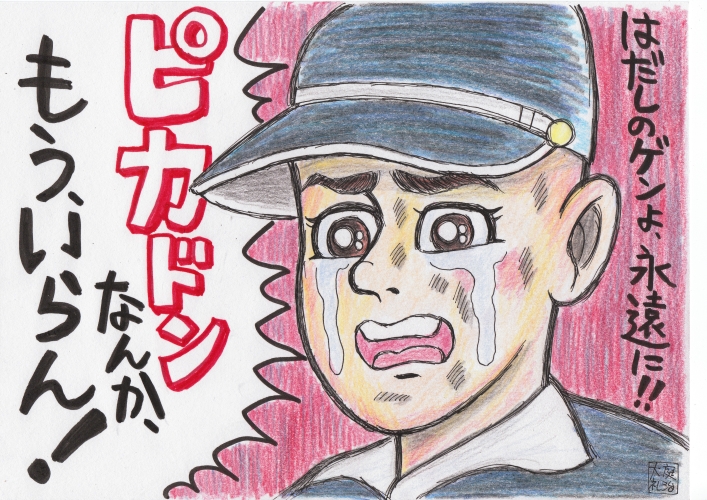 Suddenly, Gen, his friend, and his family are all blinded by a flash of white light which is then closely followed by the explosion, flinging Gen underneath a ruined wall, throwing his mother off the balcony, and burying his father and siblings under the house.
By AS on May 24, 2011
スポンサーサイト
tag : Anime