Sponsored Link
スポンサーサイト
First episode of 'Appleseed XIII' streamed free, more to follow for a fee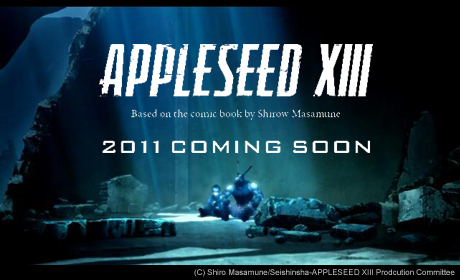 The first episode of "Appleseed XIII," an 13-episode animated series based on the manga by Masamune Shirow, was made available for online streaming June 3. The first of the two-part animated feature version is slated to hit cinemas June 13.
"Appleseed" is one of Shirow's major works. The manga artist is also known for "Ghost in the Shell" and many other sci-fi comic books.
The manga has spawned two animated feature adaptations, but the latest series offers completely new episodes.
The first episode, "Rakuen no Owari" (The end of paradise), is streaming free on the Bandai Channel and Nico Nico Douga websites. Mytheater also offers the episode for free.
Later episodes will be made available for streaming for a fee.
On July 6, the first volume of "Appleseed XIII" will be released on Blu-ray and DVD.
A preview screening was held June 6 at the Togeki theater, with director Takayuki Hamana making an appearance.
The star-studded voice cast members have also attracted attention. Singer and voice actress Maaya Sakamoto gave voice to main character Deunan, while her cyborg partner Briareos was portrayed by Koichi Yamadera.
Visit the official "Appleseed XIII" website at (http://appleseed13.jp).
To view the first episode, visit Nico Nico Douga (http://ch.nicovideo.jp/channel/ch60024) or Bandai Channel (http://www.b-ch.com/contents/feat_aps13/).
By AS on Jun 21m 2011
スポンサーサイト