Sponsored Link
スポンサーサイト
Dr. Osamu Tezuka's Personal History (Vol.1)
JAPANESE ANIME SPOT / Tezuka Osamu (12) / Tezuka Osamu (14)

Refer to Dr. Osamu Tezuka's Personal History.
Dr. Osamu Tezuka (手塚 治虫 ,Tezuka Osamu, November 3, 1928 – February 9, 1989) was a Japanese manga artist, animator, producer and medical doctor, although he never practiced medicine. Born in Osaka Prefecture, he is best known as the creator of Astro Boy and Kimba the White Lion.
(Tezuka as a child)
His early life is as follows;
Tezuka was born the eldest son of three children on November 3, 1928, in Toyonaka City, Osaka. He was tormented by his classmates because of his skinny build, small stature and wavy hair, a genetic trait which appears in 3% of the Japanese population. His nickname was gashagasha-atama (gashagasha is slang for messy, atama means head). His mother often comforted him by telling him to look to the blue skies, giving him confidence. His mother's stories inspired his creativity as well.
Tezuka grew up in Kobe and his mother often took him to the Takarazuka Theatre in the city of Takarazuka. The Takarazuka Revue that performed at the theatre is made up in its entirety of women, therefore male characters are also played by women.
(The Takarazuka Revue at present)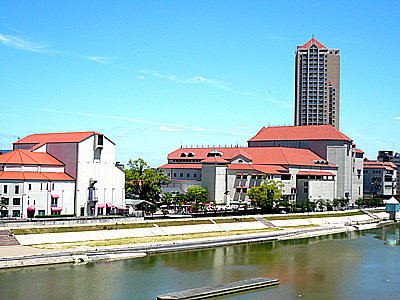 (The Takarazuka Theatre at present)
The Takarazuka Revue specializes in romantic musicals aimed at a female audience, thus having a large impact on the later works of Tezuka, including his costuming designs. He has said that he has a profound "spirit of nostalgia" for Takarazuka. He was inspired by Takarazuka stage techniques for highlighting the eyes on stage to draw his female characters' eyes sparkling and large.
(Tezuka's One of the sample regarding "spirit of nostalgia" for Takarazuka)

Tezuka also loved the environment, especially insects, and wished that all humans would take care of it. His animation production company was named Mushi (insect) Production.
The Life of Dr. Osamu Tezuka / MANGA MASTER Part.1
by YouTube
He started to draw comics around his second year of elementary school. Around his fifth year he found a bug named "Osamushi".

The Life of Dr. Osamu Tezuka / MANGA MASTER Part.2
by YouTube
It so resembled his name that he adopted osamushi as his pen name. He came to the realization that he could use manga as a means of helping to convince people to care for the world. After surviving World War II, he created his first piece of work (at age 17), Diary of Ma-chan and then Shin Takarajima (New Treasure Island), which began the golden age of manga, a craze comparable to American comic books at the time.
By A.S. in May, 2009
スポンサーサイト