Sponsored Link
スポンサーサイト
Natsume's Book of Friends (夏目友人帳)
Natsume's Book of Friends (夏目友人帳 Natsume Yujincho) is an ongoing fantasy manga series by Yuki Midorikawa. It began serialization by Hakusensha in the shōjo manga magazine LaLa DX in 2005, before switching to LaLa in 2008. Chapters have been collected in nine bound volumes as of January 2010. The series is about Natsume, an orphaned teenage boy who can see spirits, who inherits from his grandmother the notebook she used to bind spirits under her control. Natsume's Book of Friends was a finalist for the first
Manga
Taishō award in 2008.
Natsume's Book of Friends has been adapted as a series of drama CDs, as well as an anime television series produced by Brain's Base, which was broadcast on TV Tokyo in two seasons in 2008 and 2009. The manga is licensed for English-language release in North America by Viz Media, which released the first volume in January 2010. The third season began airing in July 2011. A fourth season, to be titled Natsume Yujin-Cho Shi, was announced recently in the November 2011 issue of LaLa.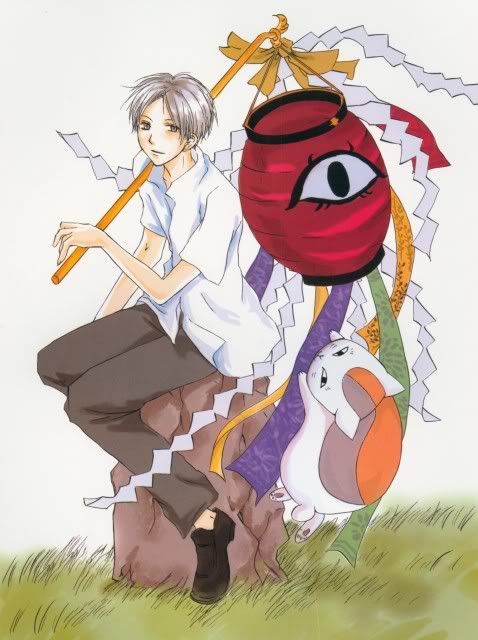 For as long as he can remember, Takashi Natsume has been cursed by the ability to see spirits, a power inherited from his grandmother Reiko. Upon her death, Reiko bequeaths to her grandson her Book of Friends, a book containing the names of spirits Reiko had bullied into servitude. The Book of Friends is a highly prized item in the spirit world, and spirits haunt Takashi constantly. Whereas Reiko formed the contracts, however, Takashi spends his time dissolving the contracts and releasing the various spirits that come to him for help. But that doesn't mean there aren't malicious spirits trying to kill him. Which is where Madara (called Nyanko-sensei by Natsume) comes in; Madara serves as Natsume's bodyguard and spiritual advisor of sorts, even though he is motivated by his own desire to possess the Book of Friends. He later on begins to become more attached to Takashi.
By AS on Oct 21, 2011
スポンサーサイト
tag : Manga