Sponsored Link
スポンサーサイト
Nico Nico Musical to present 'Tale of Genji' with modern twists
Dwango Co., the operator of the Nico Nico Douga video-sharing website, will present a live musical performance of "The Tale of Genji" in November, the company said.
The seventh installment of the Nico Nico Musical production series is based on the Japanese literary classic written in the early 11th century. The musical will run from Nov. 16 to 23 at the Zenrosai Hall, or Spacezero, in Tokyo's Shinjuku Ward, Dwango said.
The Nico Nico Musical series has gained a following for its unique presentation, featuring a live musical stage concurrently streamed live online at the Nico Nico Douga.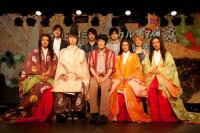 The first installment, "Christmas Carol," grabbed attention as it starred Takafumi Horie, the disgraced IT mogul currently serving time in prison.
Subsequent stages featured "vocaloid" virtual singing idols, anime and manga, all of which are the familiar themes for Nico Nico Douga users.
"The Tale of Genji" seems worlds apart from its repertoire, although the story is a beloved classic. It shows that Nico Nico Musical is determined to offer Internet users the chance to enjoy theatrical plays and musicals live online.
Nico Nico Musical is also taking a bold approach to include modern twists in the story setting.
The original saga, which was elegantly composed by court lady Murasaki Shikibu, follows a Heian Period (794-1185) prince named Hikaru Genji with romantic tendencies.
But director Koichiro Yuzawa sees the author as an unattractive woman who loves manga that deal with homosexuality, collectively known as "fujoshi" (rotten girls) in modern times, and "The Tale of Genji" as her fantasy.
Yuzawa will also play the role of Murasaki Shikibu in the musical.
Singer Pokota will play Genji, while actress Maho Tomita will portray one of his mistresses, Murasaki no Ue.
Tickets are 6,800 yen ($88.50), including tax, in advance and at the door. Tickets for online viewing will also be available.
For more information, visit (http://info.nicovideo.jp/nicomu/genji/index.html).
By AS on Oct 12, 2011
スポンサーサイト
tag : Anime_News