Sponsored Link
スポンサーサイト
Keio issues spooky train tickets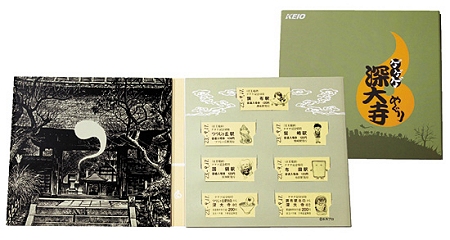 A railway company is offering commemorative tickets featuring illustrations of traditional Japanese "yokai" hobgoblins by the famed manga artist Shigeru Mizuki.
Keio Corp., the operator of Keio electric railway lines, is selling a set of five tickets called "Gegege Jindaiji Meguri," including five train tickets, two bus tickets and a cardboard panel with an illustration by Mizuki. A similar commemorative set proved popular last year.
The tickets allow access to the Chofu, Fuda, Kokuryo, Shibasaki and Tsutsujigaoka stations on the Keio Line in western Tokyo. The two Keio Bus Higashi Co. tickets are for bus rides to the Jindaiji temple from the north exit of Chofu Station and from the north exit of Tsutsujigaoka Station.
Chofu city was thrust into the limelight in 2010 when Japan Broadcasting Corp. (NHK) featured a drama about Mizuki, the creator of the famous "Gegege no Kitaro" comic series, and his wife Nunoe. The drama focused on the couple's life after they settled in a rickety house facing a cemetery in Chofu's Jindaiji district. The Mizukis still live in the city.
The ticket set is priced at 1,000 yen ($13). Three thousand sets were allocated to Chofu Station, 2,000 sets to Shinjuku Station and 1,000 sets to Tsutsujigaoka Station in late September.
Visit (http://www.keio.co.jp/english/index.html).
By AS on Oct 15, 2011
スポンサーサイト
tag : Anime_News