Sponsored Link
スポンサーサイト
Horo Musuko (放浪息子 / Wandering Son)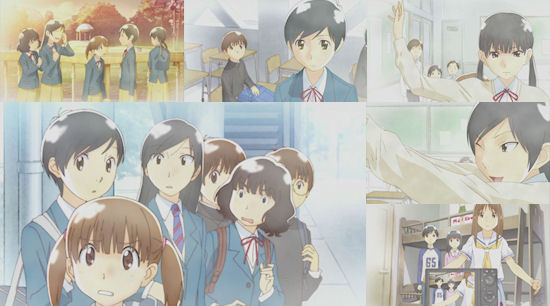 Wandering Son (放浪息子) is a Japanese manga series written and illustrated by Takako Shimura. It began serialization in the December 2002 issue of the monthly seinen manga magazine Comic Beam. The first tankōbon volume was released by Enterbrain in July 2003 in Japan; as of December 2010, 11 volumes have been released. The series is licensed in English by Fantagraphics Books, which is scheduled to release the first volume in North America in July 2011. A 12-episode anime adaptation produced by AIC Classic and directed by Ei Aoki aired in Japan between January and April 2011. Eleven episodes aired on TV, with episodes 10 and 11 edited into a single episode, and will be released individually on their respective BD/DVD volumes.
Hourou Musuko (The Wandering Son) PV - Trailer
At the start of Wandering Son, Shuichi Nitori is a young, feminine boy in the fifth grade who transfers into a new school where he quickly becomes friends with a tall, boyish girl in his class named Yoshino Takatsuki. Yoshino soon learns of Shuichi's desire to be a girl and tells him that she wants to be a boy. Shuichi also becomes friends with two other girls in his class: Saori Chiba and Kanako Sasa. Saori instantly takes a liking to Shuichi and continuously encourages him to cross-dress.
After Shuichi and his friends enter sixth grade, Yoshino cuts her hair to a short, boyish style. Shuichi meets a boy his age from another class named Makoto Ariga who also secretly wants to be a girl. Shuichi and Yoshino meet an adult transsexual woman named Yuki living with a man named Shiina. Shuichi and Yoshino become friends with Yuki and Shiina and continue meeting with them. Shuichi's older sister Maho becomes a model and eventually becomes friends with Maico, a teen model whom she idolizes, and two other teen models: Tamaki Sato and Anna Suehiro. Maho gets a boyfriend, Riku Seya, and Shuichi confesses to Yoshino he likes her, but she cannot reciprocate his feelings. After Saori learns of this, she confesses she likes Shuichi, but he too cannot return her feelings. This results in a falling-out between Shuichi's friends as they prepare to enter junior high school.
In junior high school, they meet a tall, eccentric girl who befriends everyone named Chizuru Sarashina and her prickly friend Momoko Shirai, who does not get along well with the others—especially Saori. Eventually, Saori and Yoshino rejoin Shuichi's group of friends, though Saori says she still hates Yoshino and Momoko. Shuichi and Anna start dating, much to the surprise of his friends and sister. Yoshino and Saori manage to halfway repair their friendship, though Saori is still standoffish to others.
Shuichi and his friends are split up into several classes upon entering their second year in junior high school. Shuichi becomes friends with Shinpei Doi, who previously teased him about wanting to be a girl. Yoshino grows her hair long after a comment by Saori and attends school in a boy's uniform for a short time. Shuichi tries to go to school dressed as a girl one day, but he is laughed at, which discourages him. Shuichi's friends worry as he begins skipping school, but he eventually starts attending school regularly again, though by this point Anna breaks up with him. Shuichi grows his hair out, while Yoshino in turn cuts hers again. Doi convinces Shuichi to begin attending class regularly. By the time Shuichi and his friends enter their third year in junior high school, Shuichi's voice is changing and he gets his hair cut very short. After a school trip to Kyoto and Nara, Shuichi and his friends think about their future high school plans.
Shuichi begins attending the same all-boy high school as Makoto and Doi, while Yoshino and Saori begin attending a high school where uniforms are not required. Saori starts dating Fumiya Ninomiya. Shuichi begins working at a cafe, at first as a waitress.
By AS on Oct 26, 2011
スポンサーサイト
tag : Anime