Sponsored Link
スポンサーサイト
Nerima animation carnival set for Nov. 19-20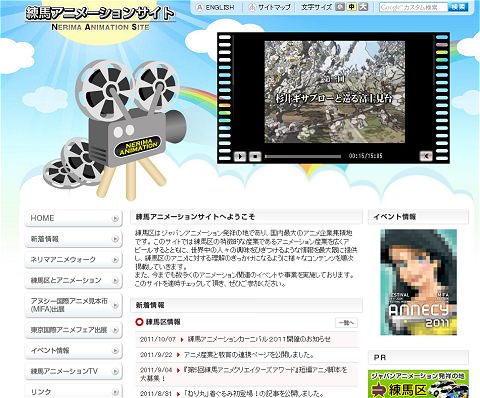 With thoughts on the devastation from the March 11 Great East Japan Earthquake, this year's Nerima Anime Carnival 2011 will be conducted under the slogan "Let anime be the power to reconstruct Japan."
The carnival, a hub for the nation's anime culture, will be held from Nov. 19-20 at Toshimaen amusement park in Tokyo's Nerima Ward.
Seajetter Kaito, a "local superhero" from Ishinomaki, Miyagi Prefecture, one of the areas hardest hit by the quake and tsunami, will make a special appearance. A fair to help quake-stricken areas will also be held.
In addition, with the help of anime-related companies in the ward and surrounding areas, anime song concerts, stage shows, screenings, workshops and many other programs will be offered during the two-day event.
One of the two anime song concerts will highlight veteran vocalist Ichiro Mizuki, the "king of the anime song world," while the other will feature Sayaka Sasaki and Marina Kawano, who won the Grand Prix at Animax Broadcast Japan Inc.'s All Japan Anime Song Grand Prix singing contest.
The stage show featuring the characters from the popular "Suite Precure" anime series produced by Toei Animation Co., which is based in the ward, will attract the attention of girls.
Three programs of anime screenings will also be offered, with two of the programs highlighting classic anime produced by Toei Animation including the "Magical Doremi" series and the super robot franchises.
In addition, there will be a showcase of animated films for children with the help of private film organization Tokyo Kinder Film. Award-winning titles from the Japan Media Arts Festival and the Annecy International Animated Film Festival and other works will be screened.
In an anime production workshop, professionals from the Nerima Animation Association will show how to make an animated scene using traditional celluloid pictures.
Advance registration is required for a voice acting workshop, but junior and senior high school students can take basic lessons from professionals. In addition, a cosplay event will add further color and fun to the festival.
For more detailed information, visit (http://www.animation-nerima.jp/news/2011/10/post-35.html).
By AS on Nov 7, 2011
スポンサーサイト
tag : Anime_News