Sponsored Link
スポンサーサイト
Hiroshima to host anime festival next summer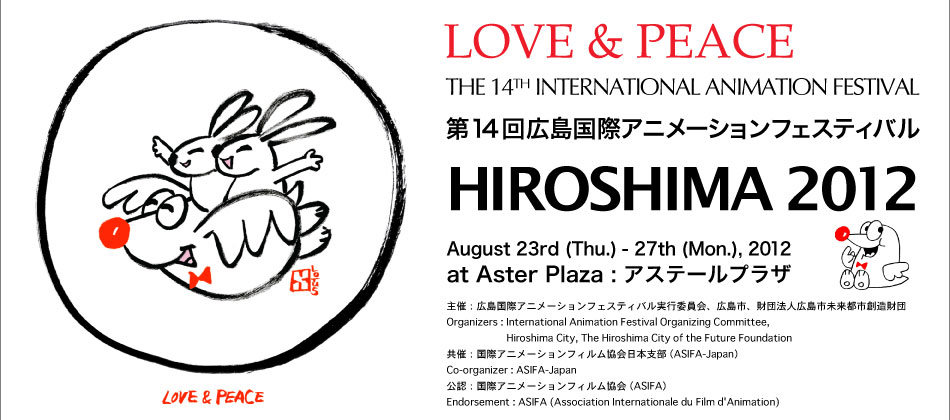 The 14th Hiroshima International Animation Festival will be held Aug. 23-27 next year at the city's Aster Plaza cultural complex.
An official Association Internationale du Film d'Animation event, the biannual animation festival was first held in 1985.
The highlight of the event is the competition program. The festival will also offer special programs devoted to animation artists at home and abroad, screening programs and exhibitions.
To encourage interaction among participants, it will also hold seminars, symposiums and workshops.
Known for its broad international viewpoint, the festival always features notable animation creators from around the world. It has grown into a must-visit event for anime fans in Japan.
For the 13th installment held in 2010, 1,937 works of animation were submitted from 58 countries and regions.
Some 34,000 people attended the five-day event.
Festival officials also revealed that they will accept entries for the competition program from Feb. 1 to April 1, 2012. Applicants will be required to send their works and necessary documents to the festival committee.

(ANGRY MAN Directed by: Anita Killi got prize in 2010)
Because the festival is held every two years, the committee will accept animated works completed on or after April 1, 2010. The festival only accepts animated shorts whose running time is 30 minutes or less.
Submitted works will be reviewed by the selection committee before the jury members decide which ones will be showcased at the event.
The Grand Prize, Hiroshima Prize, Debut Prize, Renzo Kinoshita Prize, Special International Jury Prize and other accolades will be given to notable works.
For more information, visit the official website at (http://hiroanim.org/).
By AS on Nov 8, 2011
スポンサーサイト
tag : Anime_News